Clean your mouthpiece
Your mouthpiece need to be cleaned.
---
Don't wait the end of the year to clean your mouthpiece. You need to do this regularly.
You can simply clean it with wather and a small brush, and after, apply a desinfectant.
You will prevent lips problems due to bacteries... and perhaps you'll rediscover the original sound of your mouthpiece !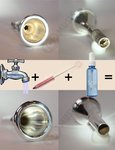 Of course, this also must be do with with saxophone and clarinet mouthepieces.